We're visiting my sister and her family this weekend... enjoying a lazy Sunday morning... letting the cousins play... having our brother with his kids show up bringing breakfast (welcome surprise!).
And then I check my email to see this fun tutorial review written by my friend Erin Erickson of
. Okay, we've never met in person, but we tweet, we email, and we make each other's stuff. I can't wait to someday meet her in person.
So here's her awesomely fun review of
iCandy Handmade's Everyday Skirt tutorial
(I've made this one too, and it's one of my favorite things to wear).
Can I just start by saying how excited I was to make this skirt? I'm normally the one writing the patterns and creating the tutorials which means I never get to just "fun sew" and that's *exactly* what this was. SO FUN.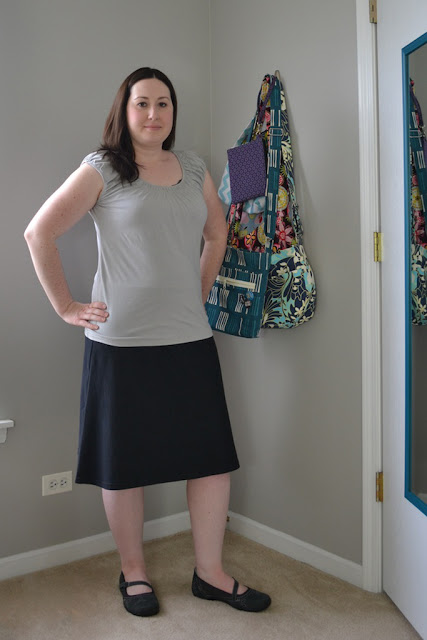 So, I used
"The Everyday Skirt" Tutorial from iCandy Handmade
.
I quickly read through the tutorial.
All the tutorials on this site are all very good, so even though it's knits and I mostly sew with quilting cotton, I wasn't worried and you shouldn't be either.
It's not super detailed photo-wise about what stitches to use, but that's OK. This is all you need to know: You don't need a serger. You just need a specific kind of needle (a Jersey Ballpoint / stretch needle, mine was a size 80/12) and possibly a twin needle for the mock cover stitch hem. Or don't hem it. It's knit, you don't have to. Then you need to use a narrow zigzag (or a lightning bolt stitch if you have one!) instead of a straight stitch. I also used my machine's stretch overlock stitch to finish the raw edges, but knits don't ravel so you don't need to do that either. It just looks nicer. I did use my walking foot but that's because it's expensive so I take every opportunity to break it out! :)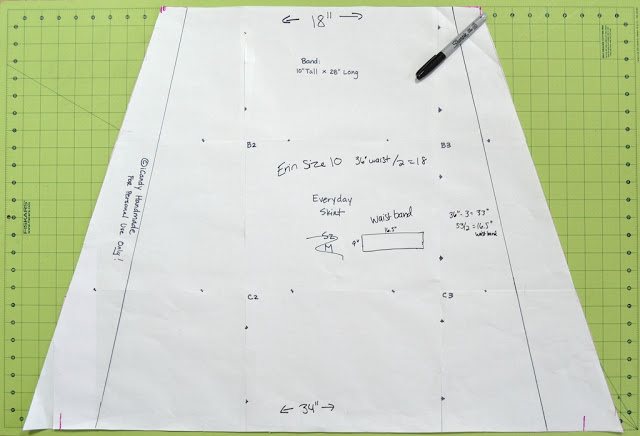 The first thing I did was modify the pattern using the custom size calculations given at the bottom of the post. They were spot on. Maybe I got lucky with the stretchiness of my knit fabric matching up, but I followed them exactly and they were perfect. I pulled out the one knit skirt that I own to make sure it was close and it was.
I printed and cut out the pattern. I measured my "waist" right above the waist band of my jeans, since that is where I wanted the skirt to sit. I angled the skirt out just a little bit at the bottom because that's the look I was going for. I just arbitrarily went to the edge of the paper. So scientific! It worked great.
Then I followed the formula again for the waistband. I only had 9" of fabric to work with instead of 10", but it was fine. I asked on twitter which way the "grain" should go and the consensus was that the stretchier part should go around the body, no matter how the fabric came off the bolt. Thank you twitter! :)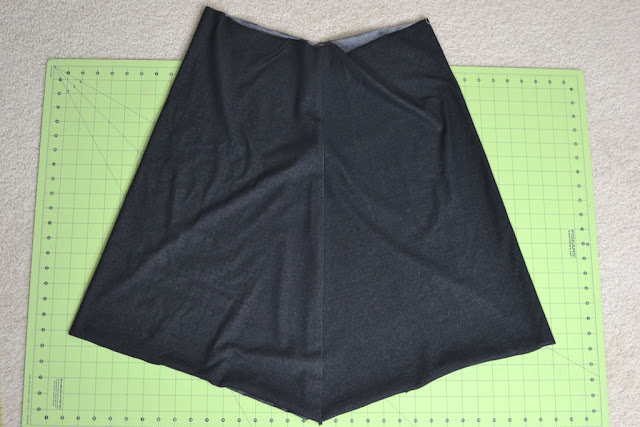 So, because I angled that skirt out a little bit more, this happened.
(Disclaimer - some of these photos are embarrassingly bad because I don't take photos of large objects. I make purses so I have a very small photo "studio" set up. I had to stand on a chair and point my camera at the floor to get these shots. The dark denim knit probably doesn't help either. Apologies for that. But you get the idea!)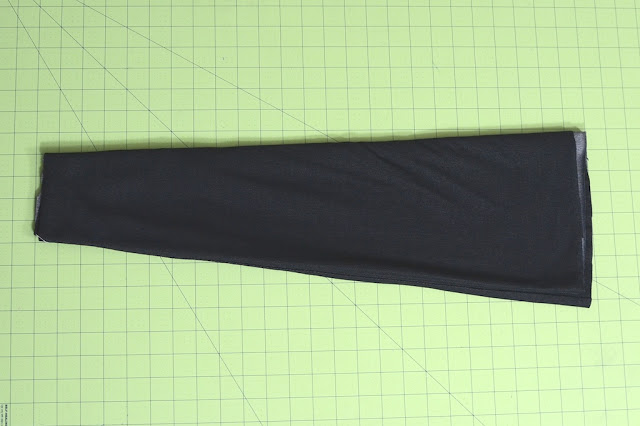 I just folded the skirt and trimmed off some of the extra funky angle. Again, totally winging this. Not stressing about it! It's FUN.
Then it looked like this, which was much better.
So I used the "lightning bolt" construction stitch on the side seams of the waist band and skirt, then I followed the instructions to attach the waist band with the same lightning bolt stitch. Then I went back and trimmed the seam allowance and overlocked it. Then I pressed up the hem 3/4" and used a twin needle on it with a 5/8" SA so it caught the folded fabric on the back side (just keep checking to make sure). EASY!
And fast!
Actually,
that's
not entirely accurate. Before I hemmed it, I tried it on and refused to take it off to hem it for like an hour. I LOVE THIS SKIRT. <3 Oh and a tip - try the waistband on before you sew it to the skirt so you can make it smaller if you need to!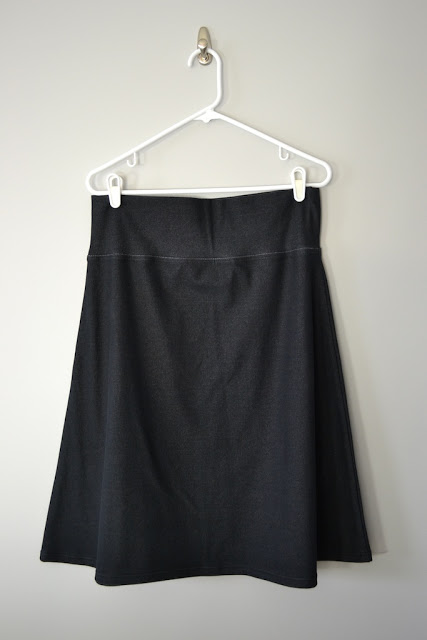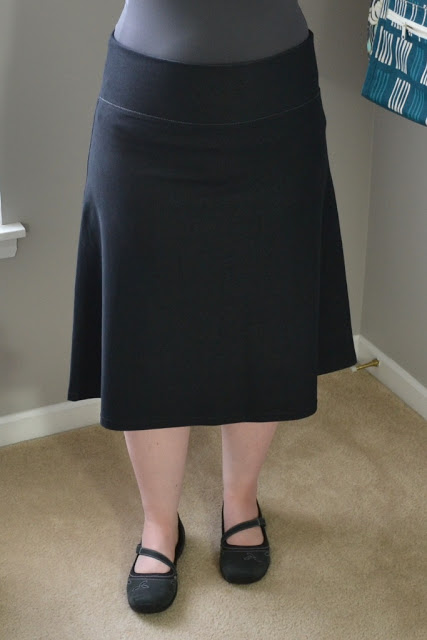 (Another disclaimer? I'm not a model and my husband is not a photographer. But I love my skirt enough to make him take pictures of me trying ridiculously hard to not look like a dork!)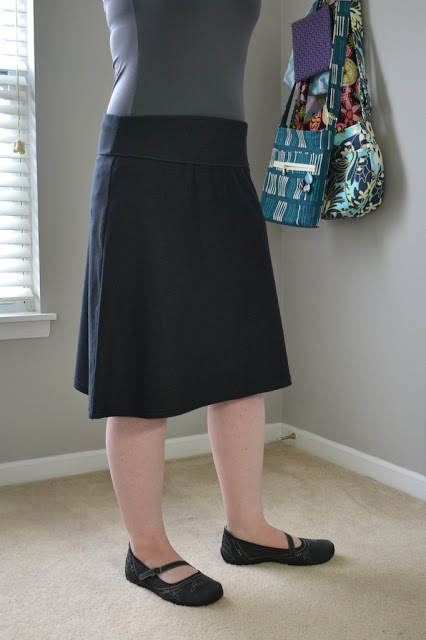 I'll wear it with the yoga waist band folded down. And probably with leggings or tights since it already feels like winter out there!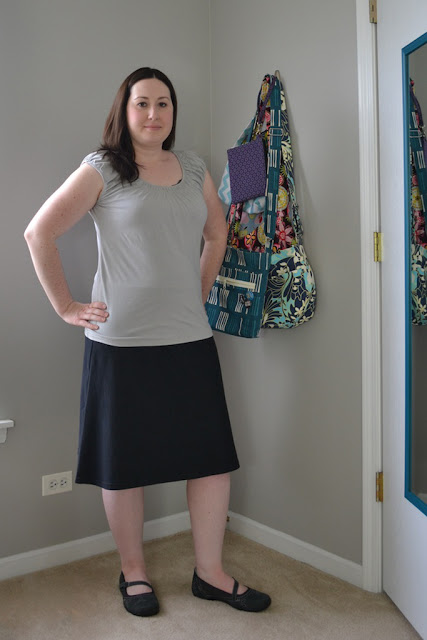 The hardest part is trying to decide which fabric to use for my next skirt! And I really want to try one of the shirt tutorials on this site too!
Go! Make skirts! :D
Thanks to Caroline for letting me guest post! I had so much fun making this and it was just the push I needed to make something fun for me. You should too!
Thank you so much Erin! Love your talent. Everyone needs to go check out the new Essential Wristlet pattern she just posted over at
!