Hi everyone! It's Sarah here filling in for Caroline, who is busily sewing cute outfits and getting ready for Quilt Market. I am loving how the
is filling up with so many great projects you've made. Keep them coming! Have you tried sewing with Organic cotton yet?
We recently received a stack of lovely Birch Fabric organic cotton from
to try out. It's a cute new fabric line called
Camp Sur by Jay-Cyn for Birch Fabric
. Soon to be for sale in November.
So many cute little animals prints! Such a lovely color pallet too! This was my first experience sewing with organic cotton and let me just say the quality and feel of these fabrics is luscious! Want to see what I made with all this fabric??
, using
a great tutorial from
.
We have the tutorial bookmarked on the Sew Can She
page. These sew up really very quickly. 4 fat quarters will make 6 potholders.These would make great Christmas gifts.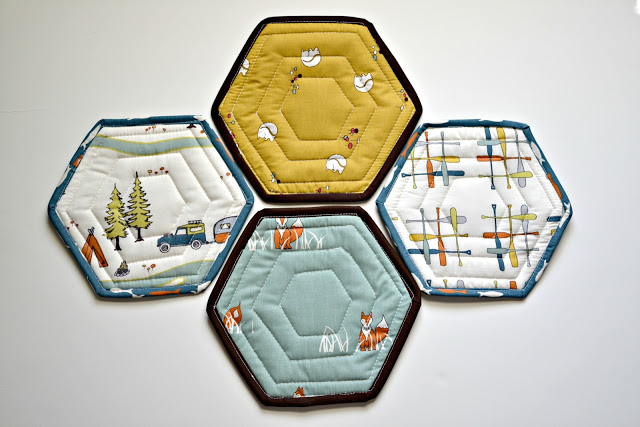 It calls for using a fancy 60 degree triangle ruler. I happened to have one similar to it that I was given years ago. So glad I finally got to use it. But if you don't have a triangle ruler, don't let it stop you from trying out this tutorial. You can draft your own cutting template using a protractor. Just make sure all your angles are 60 degrees and chop 1/4 of an inch off one corner.
Use the template as a guide with your regular ruler over the top like this.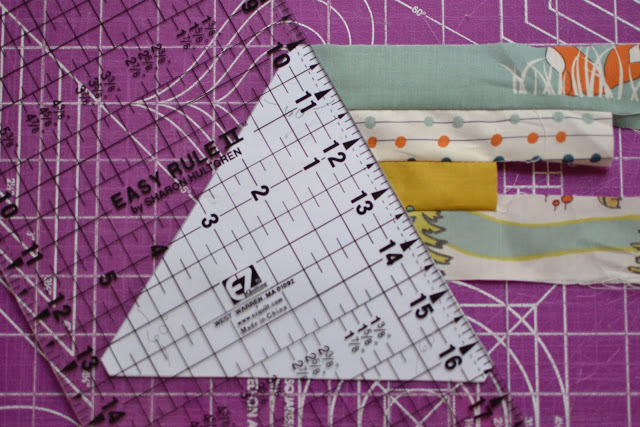 You'll have a ton of triangles ready to sew up in no time.
I would have to say the trickiest part of this tutorial is putting on the binding. I used Julie's
as suggested.
For the first 2 potholders I cut my binding at 2 1/4 inches. It made for a very narrow binding.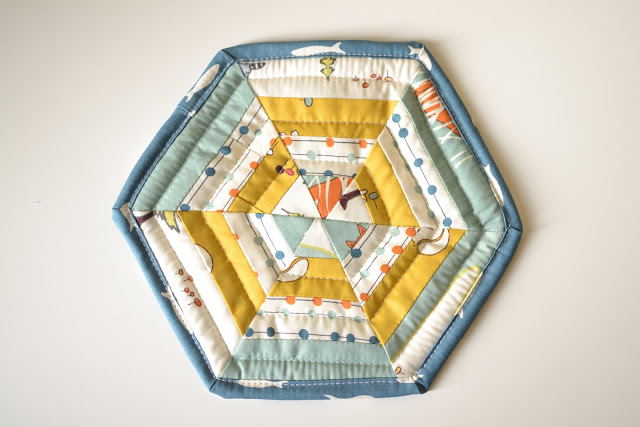 For the next 2 potholders I cut my binding at 2 1/2 inches. It was much easier to work with and made the potholder a little larger as well.
All and all, I found this to be a great tutorial. There are also instructions to make an 8 sided web that you can turn into a square potholder.
I think it would be fun to use this tutorial with Halloween fabrics to make a spiderweb table runner. I'll let you know if I make one.
If you want to get your hands on some lovely organic cotton,
currently offers a coupon code to get $5 off of $50. Check out the
Feel free to join me on my blog
for more sewing inspiration.
Happy Sewing!